Electric Air Duster
for the contactless cleaning of PC accessories and household objects

Electric Air Duster
for the contactless cleaning of PC accessories and household objects
Article details
The mobile Goobay air blower is the perfect cleaning aid in the household and on the go. Equipped with 3 operating levels and 5 different nozzles, it is suitable for a wide range of applications - even in hard-to-reach places. Thanks to the rechargeable batteries, the blower is a long-lasting and eco-friendly alternative to canned air.
PC cleaning kit with 5 exchangeable nozzles effectively and powerfully cleans the keyboard, computer housings, radiators, toys, sofas and electronic devices.
The soft brush nozzle does not cause any scratches or damage e.g. as a camera, TV or laptop cleaner.
Ideal as a multifunctional companion during leisure time and on holiday, e.g. to inflate air mattresses or rid the interior of the car from dust and sand
The dust blower has 3 power levels for up to 35,000 rpm at 2,000 mAh and up to 90 min. operating time.
Integrated LED display shows the selected operating mode and battery status
The air blower offers an eco-friendly, non-toxic and in the long run cheaper alternative to compressed air cans.
The keyboard cleaner is equipped with high-quality 18650 Li-ion batteries for an extra long service life (USB-A to USB-C™ charging cable included).
Technical specifications
Battery
Technology
Lithium-Ion Battery (Li-Ion) 18650
General
Applications
Keyboards, printers and other multimedia devices, Screens and computer accessories, Workshop, car and hobby area
Packaging type
Retail Box
Dimensions / Weight
Consumption Unit
1 pc. in cardboard box
Language Scope
Operation manual
de, en, fr, es, it, nl, pl, se, da, cz
packaging
de, en, fr, it, es, nl, da, sv, pl, cs
Downloads
£53.99 RRP
Packing units:
1 / 10 / 40
Item: 61667
EAN: 4040849616679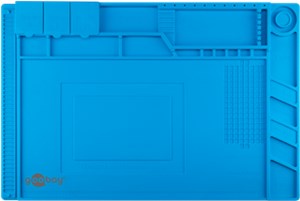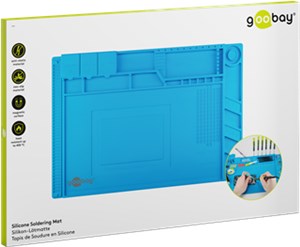 Goobay
Silicone Soldering Mat
flexible silicone mat for safe soldering, r...
Single product
---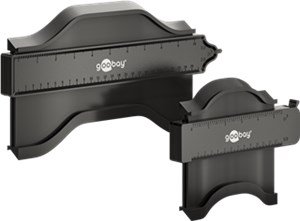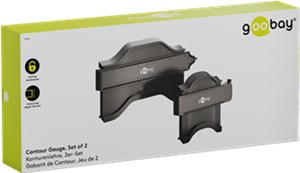 Goobay
Contour Gauge, Set of 2
contour gauge duplicators with lock to fix ...
Single product
---