USB-C™ PD Fast Charger (65 W) white
1x USB-C™ port (Power Delivery)

USB-C™ PD Fast Charger (65 W) white
1x USB-C™ port (Power Delivery)
Article details
Supply mobile phones, cameras, headphones, smartwatches, tablets and other devices with power via this USB charger. Just connect the compact charging plug directly to the socket. The Goobay power supply provides an interference-free connection and recharges USB devices in no time. Simply. All. You need!
Thanks to its high performance, the USB-C™ charger is highly versatile and suitable for almost any device - from smartphones to notebooks.
The wall charger is compatible with smartphone brands such as Apple, Samsung, Xiaomi, LG, Huawei, as well as tablets such as the Apple iPad and notebooks from popular manufacturers such as Acer, HP, Fujitsu and Razer.
Due to the input voltage range of 110-240 V, the USB-C™ power supply can also be used abroad.
With its compact design and light weight, the USB-C™ adapter is not only a handy tool at home but also perfect for on the go.
Technical specifications
ErP
Average active efficiency
82 %
Efficiency at low load (10 %)
66.2 %
No-load power consumption
0.05 W
Performance
Output
USB-C™ PD
5.0 V max. 3.0 A (15.0 W) DC
9.0 V max. 3.0 A (27.0 W) DC
12.0 V max. 3.0 A (36.0 W) DC
15.0 V max. 3.0 A (45.0 W) DC
20.0 V max. 3.25 A (65.0 W) DC
Device connections
Input, type
Euro male (Type C CEE 7/16) x in
Output, type
USB-C™-socket
Input, Voltage Range
110 - 240 (AC) V
General
Markings
CE, WEEE, Haus, Quader, Indoor use
Packaging type
Retail Polybag
Dimensions / Weight
Consumption Unit
1 pc. in polybag
Downloads
£26.99 RRP
Packing units:
1 / 50 / 100
Item: 61762
EAN: 4040849617621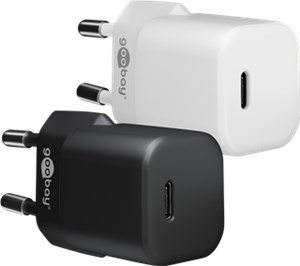 Goobay
USB-C™ PD GaN Fast Charger Nano (30 W) white
1x USB-C™ port (Power Delivery)
1 further products
---
Goobay
Dual USB Charger (12 W) black
2x USB-A ports
1 further products
---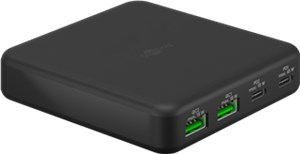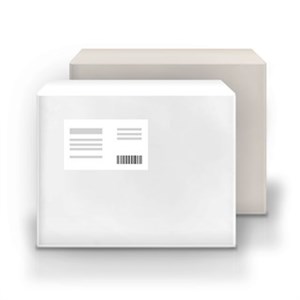 Goobay
Multiport 4x GaN Table Charger (65 W) black
Charging port with 2x USB-C™ ports (Power D...
Single product
---
Goobay
USB Charger (5 W) black
1x USB-A port
1 further products
---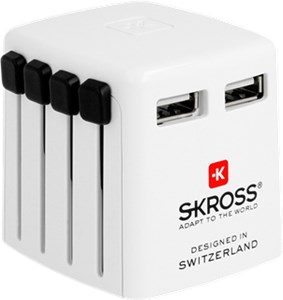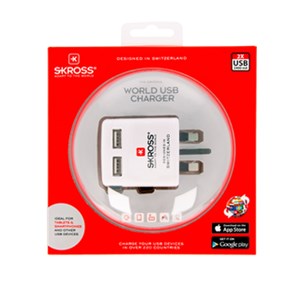 Skross
World USB Charger 2.4 A
charges simultaneously full power up to two...
Single product
---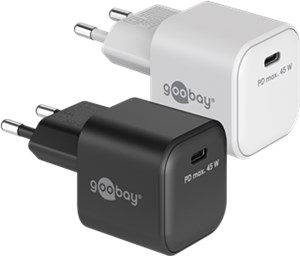 Goobay
USB-C™ PD Quick Charger Nano (45 W) black
1x USB-C™ port (Power Delivery)
1 further products
---