USB-C™ PD (Power Delivery) Fast charger (25W) black
suitable for devices with USB-C ™ (Power Delivery), such as Samsung Galaxy S21, S20

USB-C™ PD (Power Delivery) Fast charger (25W) black
suitable for devices with USB-C ™ (Power Delivery), such as Samsung Galaxy S21, S20
Article details
charges up to 4x faster than standard chargers (from 0% to 50% in 30 minutes)
Fast charger for e.g. Galaxy S21, S20 (identical to original charger EP-TA800).
universally suitable for devices such as smartphones or tablets that are charged via USB-CTM or as a power supply unit for supplying power to devices via USB-CTM
compatible for many manufacturers like Apple iPhone or iPad, Samsung Galaxy series, Sony, Huawei, LG, Xiaomi
The integrated electronics protect against overload, overheating and short-circuit, thus providing optimum safety. load, overheating and short-circuit and thus offers the optimum safety.
Power supply unit with 100-240V input voltage range can also be used abroad.
Technical specifications
Performance
Rating details
In: 100-240V 50/60Hz max. 1.0A AC Out: 5.0V max. 3.0A (15.0W) DC 9.0V max. 2.77A (25.0W) DC Out PPS: 3.3-5.9V max. 3.0A (17.7W) or 3.3-11.0V max. 3.0A (25.0W)
Device connections
Input, type
Euro male (Type C CEE 7/16)
Output, type
USB-C™ PD (Power Delivery)
Output, voltage (DC)
5 V (DC)
Output, max. amperage
2 A
Input, Voltage Range
100 - 240 (AC) V
General
Packaging type
Retail Polybag
Consumption Unit
1 pc. in polybag
Language Scope
Operation manual
de, en, fr, it, es, nl, da, se, cz, pl
£17.99 RRP
Packing units:
1 / 50 / 100
Item: 57748
EAN: 4040849577482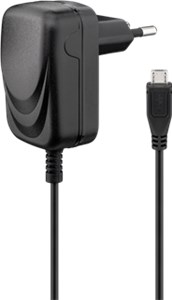 Goobay
Micro USB charger 1 A
Power supply for many devices with Mirco-US...
Single product
---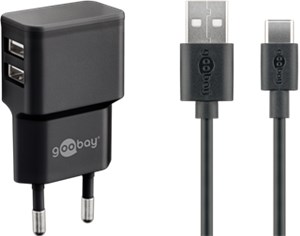 Goobay
USB-C™ charger set 2.4 A
power unit with 2 USB ports and USB Type-C™...
Single product
---
Goobay
Lightning / USB-C™ PD charging set 18W 1m (white)
USB-C™ power supply 18W including USB-C™ on...
Single product
---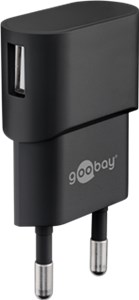 Goobay
USB charger 1 A (5W) black
compact USB power supply with 1xUSB connect...
Single product
---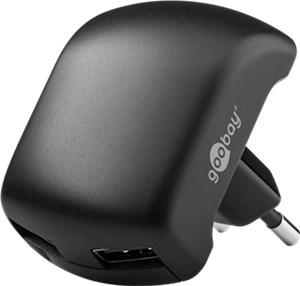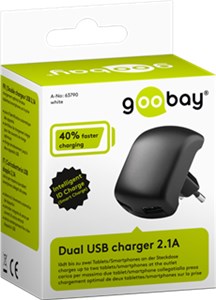 Goobay
Dual USB charger 2.1 A
charges up to two tablets/smartphones at th...
Single product
---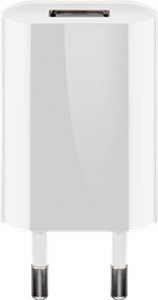 Goobay
TRA USB 1Port 5W (1,0A) Slim ws PL
Single product
---