USB-C ™ to USB-A Textile cable with metal plugs (Space grey / silver) 0.5 m
elegant and extra-robust connection cable for devices with USB-C™ Connector

USB-C ™ to USB-A Textile cable with metal plugs (Space grey / silver) 0.5 m
elegant and extra-robust connection cable for devices with USB-C™ Connector
Article details
The robust fabric cable with metal connectors not only ensures high-quality appearance but also for durability. The braided textile jacket offers a pleasant haptic and is also gentle on sensitive surfaces.
Resistance - an optimized bend protection at the metal connectors protect against cable breakage and ensures optimum resilience, even in difficult applications.
Optimal load with the Powerful cable and secure data transmission of up to 480Mbit/s.
Long-lasting and durable - over 10,000 cycles flex life.
Narrow connector mold with aluminum housing fits in devices with protective bag or envelope.
Technical specifications
Connections
Connection 2, type
USB 2.0 male (type A)
Device connections
Output 2, voltage
5 V (DC)
Cable
Cable sheath diameter (approx.)
3.3 mm
Kink protection
both sides
Signal transmission
max. transmission rate
0.48 Gbit/s
General
Packaging type
Retail Polybag
Consumption Unit
1 pc. in polybag
£4.99 RRP
Packing units:
1 / 100 / 400
Item: 49295
EAN: 4040849492952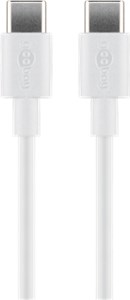 Goobay
USB-C™ PD charging and sync cable 60W
for devices with a USB-C™ (Gen.1) connecti...
1 further products
---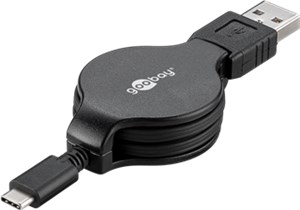 Goobay
USB-C™ charging and sync cable; retractable
suitable for devices with a USB-C™ port; bl...
Single product
---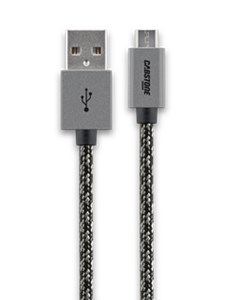 Cabstone
Micro-USB Charge/Sync Cable
suitable for many Android and Windows devic...
2 further products
---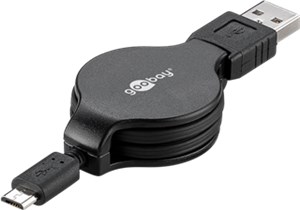 Goobay
Micro USB charging and sync cable; retractable
for Android devices; black
Single product
---

Cabstone
USB-C™ Charge/Sync Cable
suitable for devices with USB-C™ connector
Single product
---
3sixT Red
Charging and sync cable USB-C ™ ([TechdatGeneralColor @ format Multi Values ​​({value} |)]) for smartphones with USB C ™ Connector
(3S-0857)
Single product
---